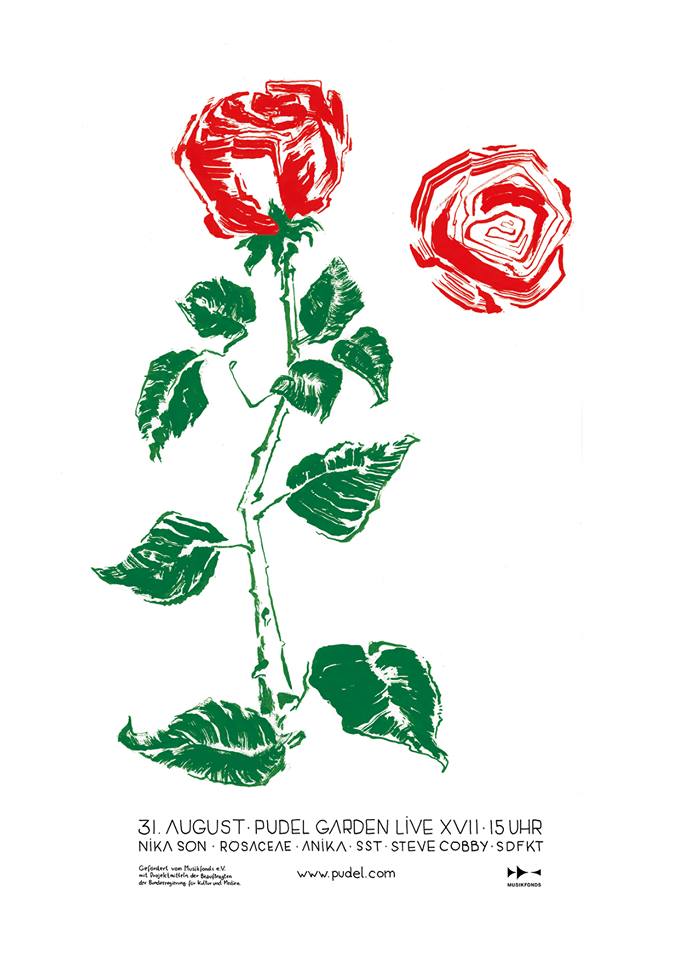 Samstag, 31. August 2019, Ab 15:00 Uhr
PUDEL GARDEN LIVE XVII
DJ: Anika & Nika Son
Live: Nika Son & Rosaceae
Anika is a British and German singer-songwriter, musician, and DJ.
Before she began her singing career, Anika was a political journalist who spent her time between Berlin, Germany and Bristol, England. She met producer Geoff Barrow (of Portishead), who was looking for a female vocalist to work with his band Beak>. Anika joined the band in the studio and recorded nine songs in 12 days, including a cover of Yoko Ono's "Yang Yang." The result, Anika, was released by Barrow's Invada imprint in Europe and by Stones Throw Records in the U.S. and Japan in October 2010. Anika received positive reviews from contemporary critics.
Anika is also known as a DJ, hosts a radio program on BCR – Berlin Community Radio (Do Not Go Gentle,) is seen and heard in experimental cinema and collaborates with a variety of artists and musicians among them Jandek, Shackleton (Woe To The Septic Heart!), Michael Rother (Neu!), Dave Clarke (Skint), Doireann O'Malley, EASTER, Phillip Geist, and Yann Tiersen.
In 2014, Anika formed the band Exploded View, based in Mexico City, along with local musician / producers, Martin Thulin, Hugo Quezada and Amon Melgarejo who released their self-titled debut album on Sacred Bones Records in 2016.
–
Nika Son works as a musician, artist, dj and film sound-designer after graduating in Fine Arts at Hochschule für bildende Künste Hamburg (HfbK) in 2012.
As a sound artist she became a dedicated hunter of extraordinary sounds and discoveries of new and old technologies in music. In her live shows, analog synthesizers communicate with manipulated tape machines, cinematic sounds are translated into a very unusual musical language, as if one watches the audible. Her compositions are built from deformed and fragmented fieldrecordings, interweaving with analogue synth lines, broken rhythms, rare voice scraps and filtered tape layers.
–
Rosaceae uses sound as a personal relief for the merciless world in which we live in. By createing her own narratives she unsettles normative rules of listening within the range of noise, ambient and power electronics.